Among the 62 special stamps that the last stamp year of the former GDR comprised were two dedicated to the reconstruction of the New Synagogue. One showed a portrait of the New Synagogue owned by the East Berlin Jewish Community (four million copies), the other a portrait of Louis Lewandowski (eight million copies).
Soon after its inception (summer 1988), the New Synagogue – Judaic Centre Foundation had sought special stamps, but its efforts were not successful; they seemed hopeless. In the midst of the tremendous changes of 1989 – the exact date of which I can't remember – the stamp officer of the Ministry of Posts and Telecommunications called me and said: "Doctor, we can now make the stamps".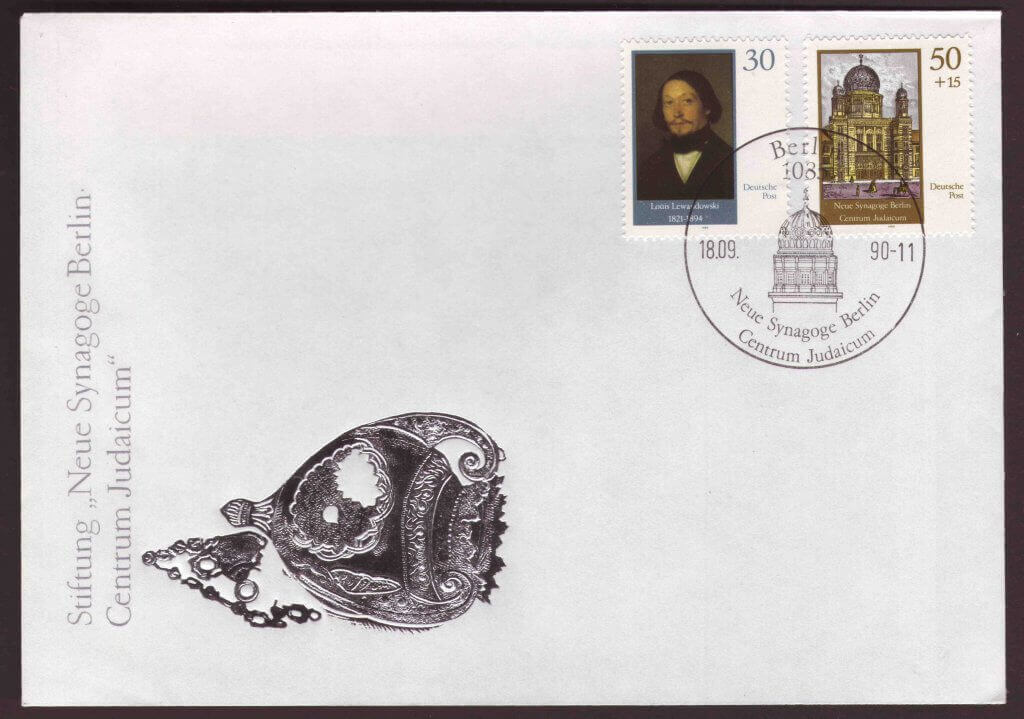 I was a little perplexed, because in those exciting days and months we had completely different things on our minds, but we asked for the reason and received the following answer as a matter of course: "Several motives failed. A later inquiry showed that it was the motive "Parliament of the FDJ" and another motive for an anniversary of the NVA. So it was now up to us to propose motifs for the special stamps.
I agreed with Vera Bendt, then head of the Jewish Museum Department at the Berlin Museum, that the oil painting by Lewandowski, created in 1868 and only recently acquired by the museum, should be included on the stamp.
Everything changed so quickly that nobody noticed any more that a work of art from the possession of a West Berlin museum was depicted on an East German stamp; probably a singular event. Both stamps – the synagogue picture and Lewandowski's portrait – were designed by Berlin graphic artist Gudrun Lenz and appeared on 18 September 1990.
The GDR still existed, but monetary union had already been established. The synagogue stamp had a value of DM 0.50 (plus donation surcharge of 0.15), Lewandowski DM 0.30. As a printing company, the now "Deutsche Post" has indicated "Wertpapierdruckerei Leipzig" on the complete sheets.
On the first day cover the Eternal Light of the New Synagogue was depicted, which had been found in October 1989 during systematic demolition work in a rubble protection blanket brought in during the war.
Dr. Hermann Simon
For the first time appeared in :
Jascha Nemtsov / Hermann Simon,
Louis Lewandowski "Liebe macht das Lied immsterblich!"
Berlin 2011 [Jüdische Miniaturen Band 114]
with kind permission of Nora Pester, owner of Hentrich&Hentrich, Leipzig and Berlin.