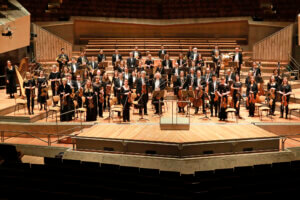 The Berlin Symphony Orchestra has been an integral part of Berlin's musical and cultural life for over five decades, enriching the German orchestral landscape.
After the Berlin Wall was built in 1961, the "Berlin Symphony Orchestra" and the "German Symphony Orchestra" – both located in the western part of the city – absorbed those musicians who lived in the west and were now cut off from their previous places of work in the eastern part of Berlin. In 1966, the two orchestras joined forces and began concert activities under the new name "Symphonisches Orchester Berlin" with their first principal conductor, Carl August Bünte. After the fall of the Berlin Wall and the reunification of the two halves of the city, the orchestra was finally renamed the "Berliner Symphoniker". also offered special rarities – unknown and forgotten works as well as contemporary compositions and crossover projects. Music education as a special focus has always been a trademark of the orchestra. The Berliner Symphoniker was the first orchestra in Berlin to develop a music education profile with school concerts and children's and family concerts, and to establish and promote the work of young musicians. Numerous CD recordings and television broadcasts round out the multifaceted work of the Berlin Symphony Orchestra. In addition to the popular and long-established symphony concerts held in the Berlin Philharmonic Hall, the Berlin Symphony Orchestra performs throughout Berlin and the surrounding area: they are regular guests at venues such as the Konzerthaus Berlin, the University of the Arts, the Berlin Cathedral, the Kulturbrauerei and the Chorin Monastery. With guest performances in Europe and regular tours to North and South America, Africa and Asia, as well as their appearances at international festivals (in France, Italy, Austria, Spain, Israel, among others), the Berliner Symphoniker present themselves successfully worldwide and see themselves as cultural ambassadors of Berlin throughout the world. The repertoire of the Berliner Symphoniker includes not only the classical, wide-ranging and popular concert repertoire, but also special rarities – unknown and forgotten works as well as contemporary compositions and crossover projects. Music education as a special focus has always been a trademark of the orchestra. The Berliner Symphoniker was the first orchestra in Berlin to develop a music education profile with school concerts and children's and family concerts, and to establish and promote the work of young musicians. Numerous CD recordings and television broadcasts round off the multifaceted work of the Berlin Symphony Orchestra.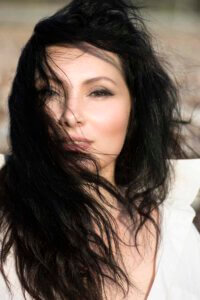 Renowned Israeli musician Anna Segal has extensive experience as a composer. She has worked in a variety of musical collectives and has been fortunate to perform with the Berlin Philharmonic Symphony Orchestra and under the direction of Israeli conductor Lior Shambadal. She also composes music for orchestra, choirs, quintets, suites as well as film music and music for children.
In one of her latest pieces, she was looking for an appropriate motif that dealt with the Holocaust. The Israeli musician wanted to create something that would be meaningful, especially from an artistic point of view, and would tell of the tragedy. Through the hint of a friend to the work of "Death Fugue" by Paul Celan, the last piece of the puzzle was found. It is above all the tragic depth of the text that touches Anna Segal.
Celan succeeds in writing simultaneously as an observer and as a part of the tragedy of the Jewish people. Right at the beginning he uses the strong image of black milk, which has turned color and symbolically describes the pain and horror of the world at that time. There is no happy ending in Death Fugue – nor can there be. However, in order to create a positive, a hopeful ending, Anna Segal made use of another of Celan's works: "Tenebrace". In its last lines it says that the Jewish people are ascending to heaven and are at the side of their master. A beautiful symbol of hope and forgiveness.
When the finished piece was played to the grandmother, a Holocaust survivor, she could not listen to the end. Tears streamed down her face. The Israeli composer will dedicate the performance at the festival to her grandmother.
The musical interpretation of Paul Celan's work takes the listener on a journey that very vividly tells the story of the Jewish people and breathes new life into the poem's powerful words.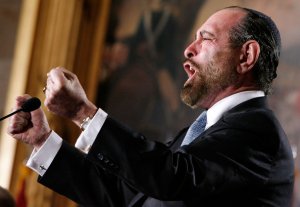 In a very special way, Malovany manages to unite Jewish prayer with orchestral choral music, creating a very special sound world that becomes a spiritual experience for the listener.
In addition to performing in the world's most famous concert halls, he holds the professorship of Liturgical Music at New York Yeshiva University as well as at the Moscow School of Jewish Music. With his performances, Cantor Joseph Malovany has earned an excellent reputation as both a singer and a speaker.
Joseph Malovany's efforts have been instrumental in increasing awareness and acceptance of God's providence and participation in daily life. Critics have described his voice and music as "an unusual gift from God" through which he reaches the heart and soul of people from all countries, religions and faiths.
Cantor Malovany's performance at the festival has been postponed until the summer of 2022
Gabriel Loewenheim, baritone and cantor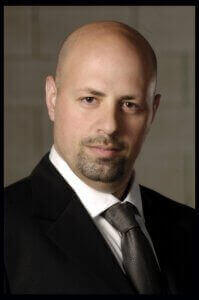 Gabriel Loewenheim performs regularly as a soloist in operas, oratorios and recitals. His long career has taken him to Israel, Europe, North America, Africa and China.
As a soloist, he sings with numerous orchestras including the Israel Philharmonic Orchestra conducted by Maestro Zubin Mehta and the Israel Opera.
In total, he has sung a repertoire of more than 30 operas and solo roles in 50 oratorios under the direction of over 60 different conductors.
He also enriched his singing career as cantor in the Jewish Community of Berlin.
He was a multiple prize winner and received various scholarships from IVAI and America Israel Culture Foundation, among others. He was also a member of the Israeli Opera Studio.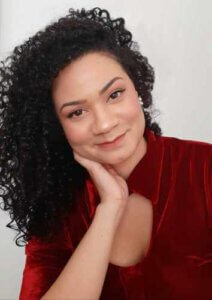 Soprano Ambar Arias began her training at El Sistema with Professor Margot Paés-Reyna, a renowned music project in her home country.
In 2014 she earned her B.A. in voice at the Universidad Nacional Experimental de las Artes, Venezuela and in 2021 her M.A. in opera at the Universität der Künste Berlin with Prof. Carola Höhn. She attended many master classes with Thomas Hampson, Melanie Diener, Gerald Wirth, Bernhard Kerres, Susana Frangi, Reneé Morloc, Markus Marquardt, Michael Pinkerton and Vittorio Terranova, among others.
Her debut as Fanny in La Cambiale di Matrimonio, Rossini at the age of 19 was followed by performances as Belinda (Dido and Aeneas, Purcell) , Lauretta (Gianni Schicchi, Puccini), Adina (L'Elisir d'Amore, Donizetti) and Micaela (Carmen, Bizet).
She has also made a name for herself as a concert singer of many oratorios and has sung in various countries in Europe and Venezuela under the direction of important conductors.
She is currently a guest chorister of the Komische Opern Berlin and has been a member of the Synagogal Ensemble Berlin for 3 years.
Regina Yantian, conductor and musical director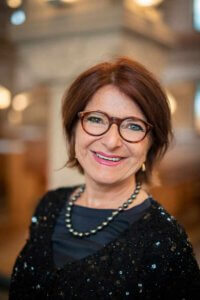 Since the very beginning, musicologist Regina Yantian has been the artistic director of the Louis Lewandowski Festival, which is taking place in Berlin for the eleventh time this year. Since 2011, Jewish choirs from all over the world have come to Berlin to sing treasures of synagogal music from different countries and epochs for the audience and sometimes with them.
The anniversary year fell in the time of the pandemic and went quite differently than planned. Thus, Berlin musicians of different professions celebrated the anniversary last year online. This year, fortunately, we celebrate the eleventh LLF again with an audience and are happy to invite choirs (albeit fewer and smaller), to Berlin.
In 2021 we celebrate the 200th birthday of Louis Lewandowski, the festival's namesake, the great Berlin composer of synagogal music, and also look back on 1700 years of Jewish life in Germany. "How can we duly honor the birthday of our namesake?" asked Regina Yantian and set out to find compositions that lie hidden in various libraries in Berlin, Frankfurt, Jerusalem, among other places, or are offered in auction houses. Here she found several secular songs that have never been performed in a larger setting.
Therefore, she is especially pleased to have won the world-renowned cantor Joseph Malovany from New York for the performance of these works together with the pianist and organist Jacobus Gladziwa.
She also combed through the large collection "Todah W'simrah", from which compositions are sung throughout the year in the services of the Pestalozzistraße Synagogue. There she found a not insignificant number of psalm settings and works for special occasions, which are largely forgotten today. These will be released in a CD early next year.
She was unable to find the cantatas by Lewandowski mentioned in the sources, except for a libretto.
"But a cantata is to be performed, after all."
So Regina Yantian came up with the idea of creating a cantata herself in honor of Louis Lewandowski.
It will tell of the composer's life, and will feature both well-known and unfamiliar compositions with orchestral accompaniment, arranged by
Anna Segal, the Israeli composer deeply associated with LLF.
This tribute cantata will be heard on Thursday, Dec. 16, 2021 at 6 p.m. in the Nikolaikirche in Potsdam and on Dec. 19, 2021 at 5 p.m. in the Rykestraße Synagogue in Berlin.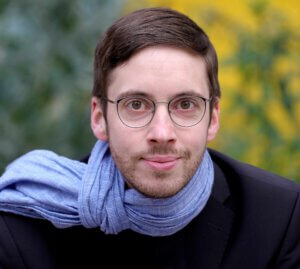 Jacobus Gladziwa has a good collaboration with the Synagogal Ensemble Berlin. This year he will make his debut at the Louis Lewandowski Festival.
Curiosity and seeing the unifying aspects in music characterize his artistic work in particular. Born in Aachen, he completed studies in orchestral conducting and church music in Dresden and Leipzig, earning two diplomas and two master's degrees.
He was deanery church musician in Delitzsch and also commissioner for church music of the diocese of Magdeburg before moving to Berlin. Since 2020, he has been church musician at St. Ludwig in Berlin-Wilmersdorf. In addition to his work, he regularly gives concerts in Germany and abroad. He is one of the most versatile church musicians of his generation.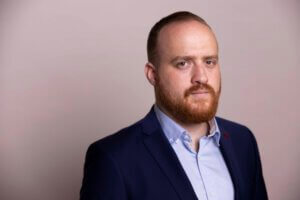 Ron was born in Tel Aviv, Israel and graduated with honors in music from the Yigal Alon High School of the Arts as a jazz trombonist. He quickly established himself as a professional trombonist, playing with many local and international jazz and pop musicians in some of Israel's most important venues.
Ron studied classical singing at the Jerusalem Academy of Music and Dance under the guidance of Ms. Efrat Ben-Nun, Mr. Jeffery Francis and Dr. Ido Ariel, and completed a master's program in collaboration with the "Meitar Opera Studio" of the Israeli Opera. His chamber music and oratorio repertoire is very impressive. Ron has performed with numerous orchestras including the Berlin Symphony, Beethoven Academy Orchestra, Hastings Philharmonic, Jerusalem Symphony Orchestra, Israeli Chamber Orchestra, Haifa Symphony Orchestra and others.
Naomi Faran, director and musical director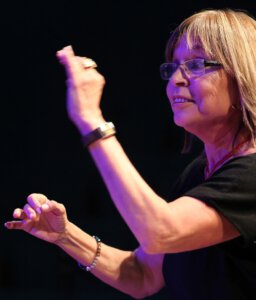 Naomi Faran is the founder of the Moran Choirs and has directed them since 1986. She is a graduate of the Buchmann-Mehta School of Music at Tel Aviv University.
She is frequently invited as a juror to prestigious competitions and was awarded the Outstanding Conductor Award at Israel's first international choral competition. She has given master classes for advanced conductors in Israel as well as at international symposia in Slovenia, Denmark, Hong Kong, China, South Korea, Italy, Spain and other countries.
Naomi Faran's vision is expressed in her success: Five generations of choirs with singers ranging in age from 6 to 60 are trained in choral music; two singers among them have achieved international recognition as professionals. Her vision is also reflected in innovative projects that combine musical excellence with social engagement and believe in the power of music.
Jürgen Geiger, organist and pianist
Jürgen Geiger, born in 1976, received a sound basic musical education in piano, organ and conducting from Johannes Skudlik in Landsberg am Lech.
In Munich, at the State University for Music and Theater, he passed the concert exam in piano and refined his pianistic skills in postgraduate artistic studies, including song accompaniment. In addition, he earned concert diplomas in organ and organ improvisation, a church music degree with an A exam, and a diploma in music education. Master classes – for example by the pianist Paul Badura-Skoda or the organists Wolfgang Seifen and Thierry Escaich rounded off his education and gave him many ideas.
Today Jürgen Geiger performs as an organist, pianist and chamber musician throughout Europe on international stages with renowned musicians and conductors.