The Synagogal Ensemble Berlin (SEB) was founded in 2002 by Regina Yantian as a concert ensemble. It consists of 8 – 16 professional singers who work in international opera houses and as freelance concert singers, including in the choir of the Pestalozzistraße Synagogue. Choir director and artistic director is Regina Yantian.
The goal of the Synagogal Ensemble Berlin is to bring Jewish liturgy and cantorial music to a wide audience with a focus on the German-Jewish tradition according to Louis Lewandowski – a genre of music that is almost forgotten and is very popular among music connoisseurs.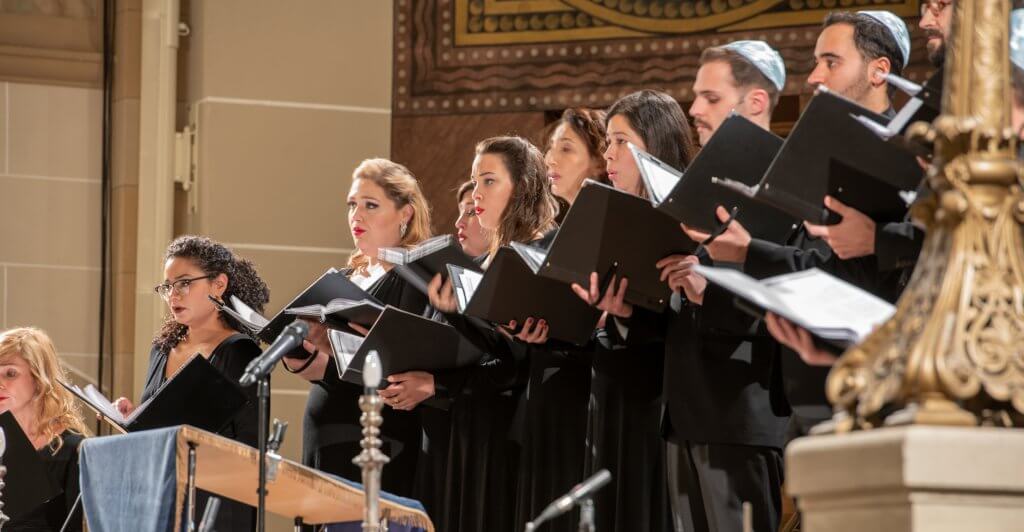 Over the years, the SEB has developed a large repertoire that includes synagogal music from the Baroque period, 19th century composers from Western and Eastern Europe, to modern works and choral works from Israel. In the more than 20 years of its existence, the Synagogal Ensemble Berlin has given countless concerts in synagogues, churches or concert halls in Germany, Poland, Serbia, Sweden, England, Italy, Israel and South Africa – a cappella, with organ accompaniment or with orchestra. Since 2011, the Synagogal Ensemble Berlin has been the host ensemble of the annual Louis Lewandowski Festival held in Berlin. Its founder, Nils Busch-Petersen, is also a member of the board of the Association of Friends and Sponsors of the Synagogal Ensemble Berlin. Every year, choirs from all over the world are invited to Berlin to bring treasures of synagogal music from different eras and regions to the Berlin audience.
Regina Yantian
Regina Yantian began her training as an organist at the age of 10 and later as a choir director. She studied Jewish Studies and Comparative Musicology in Heidelberg, Jerusalem, and Berlin, and as part of her studies, she explored in depth the many different expressions of Jewish music. She completed her Master's degree with a thesis on Israeli popular music.
Regina Yantian has been organist and choir director at Pestalozzistrasse Synagogue since 1998. There she leads the synagogue's professional choir, which accompanies all services. In addition, since this year she has also been providing musical accompaniment for services at Sukkat Shalom Synagogue. Regina Yantian is also an experienced director of lay choirs. From 2004-2011 she led the "Shalom Choir Berlin", from 2011-2020 the "Re'utchor Berlin", from 2013-2020 the Youth Choir of the Pestalozzistrasse Synagogue, and since 2021 she has led the "Refugiochor Berlin" and the "Young SEB".