REGINA YANTIAN
KÜNSTLERISCHE LEITERIN
Seit der ersten Stunde ist die Musikwissenschaftlerin Regina Yantian künstlerische Leiterin des Louis Lewandowski Festivals, das in diesem Jahr bereits zum dreizehnten Mal in Berlin stattfindet. Jedes Jahr kommen jüdische Chöre aus aller Welt in Berlin zusammen, um Kostbarkeiten der synagogalen Musik verschiedener Regionen und Epochen zur Aufführung zu bringen und auch manchmal mit dem Publikum zu singen.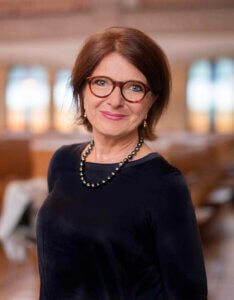 In the process, Regina Yantian repeatedly succeeds in gathering and performing hidden treasures in music archives and from private collections. Her most fruitful source for the annual festivals is the National Library in Jerusalem, where 325 personal archives and countless manuscripts are waiting to be discovered and performed.
"It is a great concern of mine to perform synagogue music that has fallen into oblivion. In doing so, we make an important contribution to the preservation and revival of Jewish culture. This culture, in which choirs play an important role in Jewish services, is more a tradition that has developed in Western Ashkenazi and to some extent also in Eastern Ashkenazi communities. Over the past 12 years, we have emphasised this tradition in our programming."
This year, however, the 75th year since the founding of the State of Israel, it would like to take a new step by presenting mostly religious music from Israel, which is not necessarily sung in synagogues, but has become part of Israeli musical culture.
The intention is not to present exclusively music by Ashkenazi composers – as was the case at the Jubilee 5 years ago, for example – but quite deliberately to also perform the music of immigrant groups who have migrated from countries in North Africa, Central Asia and the Middle East and who today greatly shape Israel's musical soundscape.
In contrast to Ashkenazic music, which plays a natural role in choral music, Oriental music is characterised by monophonic singing with instrumental accompaniment, which is why Regina Yantian is particularly pleased that this year she was able to secure the Persian-born Israeli singer Maureen Nehedar with accompaniment, as well as the Yamma Ensemble from Israel, which will play melodies from Iraq, Bukhara and Thessaloniki.
In addition, the Nashira Choir from Philadelphia, the Geffen Choir from Israel and the Synagogal Ensemble Berlin will perform musical works in which songs from the entire Jewish melodic world have been arranged for choirs. This results in a fusion of Western and Eastern traditions, which have their own special charm and are rarely heard outside Israel.