Der ADI CHOR des New Vocal Ensemble wurde 2006 gegründet und steht seit 2009 unter der Leitung des Dirigenten Oded Shomrony.
Der Chor ist mit einigen der führenden israelischen Orchester aufgetreten sowie in verschiedenen A-cappella-Programmen bei HaMishkan LeOmnuyot HaBama (der israelischen Oper), dem Jerusalem Theatre, dem Abu Ghosh Festival, der Mormonen-Universität in Jerusalem, dem Jerusalem Music Centre, dem Felicja Blumental Music Center und dem Tel Aviv Museum of Art.
Im Bereich der Popmusik hat der Chor an Konzerten und Aufnahmen an der Seite einiger der bekanntesten israelischen Musiker wie Yoni Rechter, Yehudit Ravitz, Rona Kenan, Shlomi Shaban und Aya Korem teilgenommen. Er war als Vertreter Israels bei internationalen Veranstaltungen wie dem Music Edict Festival (Niš 2013), dem Rossi Fest (Belgrad 2018) und dem Louis Lewandowski Festival (Berlin 2018) zu Gast.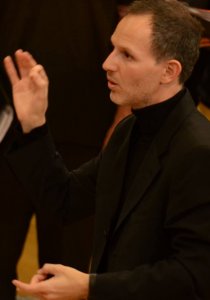 ODED SHOMRONY
studierte Klavier, Gesang und Violine und erwarb seinen Master-Abschluss in Dirigieren an der Jerusalem Academy of Music and Dance.
Seit er im Alter von 17 Jahren mit dem Dirigieren begonnen hatte, war Shomrony Dirigent des Moran Singers Ensemble und des Jerusalemer Opernchors, Chefdirigent des Jerusalemer Oratorienchors und musikalischer Leiter des Open Concert Projekts, des Thalamus Vokalquartetts und des Jerusalem Choral Fantasy Festivals.
Shomrony hat verschiedene Orchester dirigiert, darunter die Israel Camerata Jerusalem und das Israel Chamber Orchestra. In den letzten zehn Jahren war er Dirigent des Adi Young Israeli Choir und leitender Bariton des Thalamus Vokalquartetts. Seit 2004 ist Shomrony Mitglied des Lehrkörpers der Jerusalem Academy of Music and Dance, wo er als musikalischer Leiter des Studentenchors fungiert und Chorleitung, Kontrapunkt, Harmonie sowie Gehörbildung unterrichtet.
www.adi-choir.com | Facebook | YouTube | Wikipedia Adi Choir