Nashirah was founded in 2002 when a group of singers wondered if we could start a choir with auditions and a focus on Jewish music. At that time, there was no such choir in the Philadelphia region. We decided that we would have a professional artistic director and a professional accompanist. We decided how we wanted to define Jewish music.
"Nashirah" is a Hebrew word meaning "we will sing." It is a conjugation of the Hebrew verb "lashir", to sing; but it is an archaic form of the verb used in Biblical rather than modern Hebrew. It is an imperative form expressing a mood of insistence, self-encouragement, and command – "we MUST sing." And indeed, the founding and 21-year history of Nashirah is the story of a group of singers who have always insisted that we MUST sing, that we express our love for the beautiful Jewish choral repertoire, that we spread joy, and that we can create community through music.
Nashirah was founded in 2002 when a group of singers wondered if we could start a choir specializing in Jewish music with auditions in the community.
There was no such choir in Philadelphia at that time. We decided that we would have a professional artistic director and a professional accompanist. We decided how we wanted to define Jewish music, and our definition was and is much broader than that of most other Jewish choirs in the United States. We consider music Jewish if it is written in a language of the Jewish people (Hebrew, Yiddish, Ladino), if it deals with a Jewish theme, if it is based on a text from the Tanakh (which has allowed us to sing psalm settings by Bach and Brahms), or if it is written by a Jewish composer, regardless of text or setting. Over the years, our broad understanding of what constitutes Jewish music has led us to sing liturgical music, music from the State of Israel, Broadway tunes by Irving Berlin and Leonard Bernstein, Yiddish theater, Americana by Aaron Copeland, and other music not normally considered by more traditional choirs, as well as the commonly performed works associated with that repertoire.
Dr. Julia Zavadsky - Artistic Director
Julia Zavadsky is a Ukrainian/Israeli/American conductor and educator living in Philadelphia. Since 2015, she has been the artistic director of Nashirah, the Jewish Chorale of Greater Philadelphia.
The recipient of the Elaine Brown Award for Choral Excellence and winner of numerous international choral competitions, she joined the Music Studies Department at the Curtis Institute of Music in 2019. She received her Doctor of Musical Arts in conducting from Stony Brook University and her Master of Music in conducting from Temple University, where she has taught since 2000. Before immigrating to the United States, she acquired.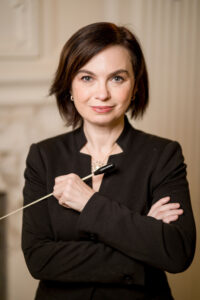 Bachelor of Music in music theory, conducting and composition at the Jerusalem Academy of Music and Dance and the R. Glier Kyiv Municipal Academy of Music. Dr. Zavadsky studied conducting with Timothy Long in New York, Alan Harler and Janet Yamron in Philadelphia, Aharon Harlap in Jerusalem, and Mikhail Hardayev in Kiev, Ukraine.
Dr. Zavadsky's ensembles have performed at Carnegie Hall, the New York Theatre Workshop, the Kimmel Center for the Performing Arts, the Curtis Institute's Field Concert Hall, and the Temple University Performing Arts Center in Philadelphia, among others. They have also participated in tours to the Middle East and Europe. As director of the Rutgers University Singers since 2006, Dr. Zavadsky has organized and hosted annual choral festivals for high school, university, and community choirs. In 2011, she founded the Singing Hearts Choral Society of Southern New Jersey.
Fluent in Ukrainian, Russian and Hebrew, Dr. Zavadsky has worked with musicians from around the world. She serves as a language coach for Russian repertoire at the Academy of Vocal Arts in Philadelphia. Her artistic career demonstrates her commitment to bringing diverse performers and audiences together through music. To this end, she has collaborated and performed with ensembles such as Choral Arts Philadelphia, Singing City, Philadelphia Voices of Pride, Temple University Singing Owls, ANNA Crusis Feminist Choir, Zamir Chorale of Boston, the H. L. Miller Cantorial School Choir of the Jewish Theological Seminary of America, PhilHarmonia, and the Cheltenham Korean Presbyterian Church.
Dr. Zavadsky has made it her mission to illuminate contemporary political issues through musical collaborations. She has recently collaborated with Israeli and Palestinian musicians and has given concerts since the Russian invasion of Ukraine, educating audiences about Ukrainian musical traditions and repertoire.
Soyeon Bin - piano/vocal teacher for collaboration
Soyeon Bin began her musical education at a young age, studying both piano and
vocals. At the age of 8, she made her debut with the Seoul Metropolitan Chorus and
gave her first piano recital at the Perelman Theater at the Kimmel Center. As a soprano and
pianist, she has a rare combination of vocal and instrumental skills that
allow her to excel in both areas. A versatile musician, she works as
collaborative pianist and vocal coach for two South Jersey choirs and for
Nashirah, the Jewish Chorale of Greater Philadelphia. She is also a soprano soloist at Chellenham Presbyterian Church in Philadelphia.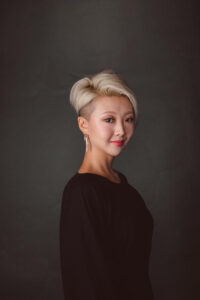 Mrs. Bin studied piano privately with Brian Kovach of Philadelphia Community College and Seymour Lipkin of the Curtis Institute, and voice/opera and music education at Boyer College of Music with Philip Cho. She is currently an instructor of voice and piano at Rutgers University and directs the Rutgers Concert Choir. She directs and accompanies various international competitions, musical productions at Rutgers University, and choral festivals, and continues to teach piano and voice in Philadelphia and South Jersey.