Kol Zimrah, was so viel wie "Stimme des Gesangs" bedeutet, begann 1996 als Gemeindechor. Heute umfasst die Gruppe Mitglieder auch aus anderen Synagogen im Großraum Chicago sowie einige Sängerinnen und Sänger, die keiner Gemeinde angehören. Der Chor bietet Singenden mit unterschiedlichem Hintergrund ein gemeinsames Forum für das Streben nach musikalischer Exzellenz.
Kol Zimrah hat die Ehre, gemeinsam mit dem Chicago Symphony Orchestra unter der Leitung von M° Riccardo Muti aufzutreten sowie bei der Siamsa na nGael Celtic Celebration (Dirigent Stephen Alltop/Sprecher Martin Sheen) und mit Hershey Felder, dem Ars Viva Symphony Orchestra und den Chicago Master Singers.
Der Chor wirkte mit bei einem Galakonzert anlässlich des 100. Geburtstages von Max Janowski (1912 Berlin – 1991 Chicago), der seit 1938 bis zu seinem Tod in der Synagoge der KAM Isaiah Israel in Chicagos historischem Stadtteil Hyde Park, tätig war.
Kol Zimrah gab Konzerte zum Gedenken an die Kristallnacht und trat darüber hinaus während des North American Jewish Choral Festival, der American Conference of Cantors Convention, der Cantors Assembly und im Rahmen des Jewish United Fund auf.
Auf lokaler Ebene ist das Ensemble bei WFMT und Fox-TV sowie in Seniorenheimen aufgetreten. Der Chor sang in Detroit, Milwaukee, Indiana, und 2019 in der Synagoge der Union Libérale Israélite de France in Paris.
Kol Zimrah wächst und entwickelt sich weiter, um seiner Aufgabe gerecht zu werden, die große Tradition der jüdischen Chormusik zu pflegen und zu interpretieren, als musikalische Ressource für die Region zu dienen und die Komposition neuer jüdischer Chorwerke zu fördern.
Die Live-Konzerte wurden im November 2021 mit einem weiteren "Restoring The Broken Glass"-Konzert wieder aufgenommen. Diesmal traten neben Kol Zimrah auch Mitglieder des KAM Isaiah Israel Chorale, die Kantoren David Berger und Susan Lewis Friedman sowie Mitglieder des Chicago Symphonieorchesters auf.
Heute wächst und entwickelt sich der Chor ständig weiter. Zusätzlich zu seinem vollen Terminkalender erfindet sich das Ensemble ständig neu, um dem Auftrag gerecht zu werden, die große Tradition jüdischer Chormusik zu erhalten und zu interpretieren, als musikalische Ressource für die Region zu dienen und die Komposition neuer jüdischer Chorwerke zu fördern.
Kol Zimrah treten auf und arbeiten mit Kantoren und Musikern in ganz Chicago und darüber hinaus zusammen. Kol Zimrah ist ein Ensemble in den USA und im Ausland, und wir sind sehr stolz darauf.
Kantor Pavel Roytman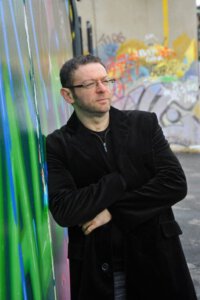 stammt aus Nikolaev, Ukraine. Seine Dirigier- und Chorerfahrung begann, als er im Alter von nur sechs Jahren für den Knabenchor der R.M. Glière Schule für talentierte Kinder in Kaliningrad, Russland, ausgewählt wurde. 1994 wanderte Kantor Roytman in die Vereinigten Staaten aus. Er erwarb einen Bachelor of Music in Gesang an der DePaul University School of Music und einen Master of Music in Musikwissenschaft an der Northwestern University. Darüber hinaus wurde Kantor Roytman sowohl von der American Conference of Cantors als auch von der Cantors Assembly zum Kantor ernannt. Kantor Roytman war Gastdirigent des Campanella Children's Choir und des Second Baptist Church of Evanston Choir sowie Chefdirigent des Milwaukee Jewish Community Chorale und ist derzeit Musikdirektor der Kol Zimrah Jewish Community Singers. Kantor Roytman komponiert Musik, die veröffentlicht wird. Er tritt weltweit als Sänger und Interpret jüdisch-liturgischer sowie von Klezmer- und jiddischer Musik auf.
Margo Schwartz
ist eine freiberufliche Pianistin. Nach ihrem Abschluss in Soziologie studierte sie Klavier an der Roosevelt University und erwarb später am Cleveland Institute of Music einen Master of Music in collaborative piano. Neben der Zusammenarbeit mit Instrumentalisten und Sängern, hat sie mit mehreren geistlichen und weltlichen Chören zusammengearbeitet und Opern wie Menottis The Medium, Purcells Dido and Aeneas und die Weltpremiere von Wendell Logans Doxology mit dem New Black Music Repertory Ensemble begleitet. Margo studierte am Aspen Music Festival and School, verbrachte einen Sommer am Interlochen Center for the Arts, wo sie Ballett- und Modern-Dance-Kurse begleitete und sie nahm am ersten UCLA Vocal Arts Institute sowie am Summer Songfest teil. Sie hatte das Privileg, Meisterkurse von Elly Ameling, Dalton Baldwin, Richard Boldrey, Warren Jones, Martin Katz, Mitgliedern des Cleveland Orchestra und vielen anderen, zu besuchen.