The Choir
The Coro Ha-Kol (The Voice) was founded in December 1993 on the initiative of some singers of the Tempio Maggiore, the major Synagogue of Rome as well as other lovers of the Jewish musical tradition. There was a need to rediscover and disseminate to a wide public, even outside the Synagogue, a panorama and a testimony of the works and Jewish choral compositions aiming at the preservation and at the conservation of the extraordinary musical and religious heritage of the Jewish Community of Rome, one of the oldest in Europe.
Coro Ha-Kol has completed almost 30 years of concert activity and performances in Italy and abroad, like in Israel, United Kingdom, Austria, Germany, Russia and Ukraine. Over the years, the repertoire has become progressively enriched with pieces by composers who lived from the sixteenth to the twentieth century, also contemplating music from the Sephardi (Spanish-Portuguese) and Ashkenazi (Eastern Europe) Jewish world. Recently contemporary musical pieces have also been included, not only liturgical but all inspired by topics from Jewish life or composed by Jewish musicians.
There are numerous activities, events and concerts in which Coro Ha-Kol has participated, always ready to confront with other religious beliefs and engaged in a musical dialogue between cultures. The "people's song", the songs of the peoples, approaching God, even when they are not declaredly religious, unite men of different faiths and of different origins and are an occasion for peace and concord.
Coro Ha-Kol, directed by M° Alberto de Sanctis and accompanied by M° Antonio Cama, is formed by an amateur group made up of four sections of sopranos, altos, tenors and basses.
Der Direktor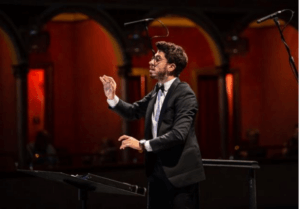 Alberto de Sanctis is Director of the Jewish Choir of Rome Coro Ha-Kol since March 2022.
Born in 1989, Alberto de Sanctis studied at the Conservatorio 'L.D.Annunzio' in Pescara, graduating with honours in Choir and Orchestra Direction. He specialised in children's choral music under the guidance of M° Josè Maria Sciutto with whom he perfected his knowledge of the method of children's choral pedagogy he coined 'Global Method'.
From 2015-2019 Alberto de Sanctis has been teaching choral singing in the pre-academic courses in agreement with the Conservatorio Santa Cecilia at the Istituto Comprensivo 'Regina Margherita' in Rome. Since 2016 he has been conductor of the Coro di Voci Bianche and teacher of the Choral Singing School of the Teatro dell'Opera di Roma where he had the opportunity to collaborate with world-renowned conductors, including Riccardo Muti, James Conlon, Jesús López Cobos, Donato Renzetti, Daniele Gatti, Paolo Olmi, Carlo Rizzi, Daniele Rustioni, Henrik Nánási, Ryan McAdams.
In 2019, Alberto de Sanctis conducted the world premiere of the triptych "Il Silenzio, il Gioco, la Memoria" (The Silence, the Game, the Memory) by M° Ennio Morricone in the opening of his concerts at the Baths of Caracalla in Rome. Since 2017 he has been director of the youth choir "Academia Alma Vox", with which he performed in prestigious concerts (among others, in the prestigious hall of Palazzo Madama, live on TV, at the opening of the "Volunteer Award 2019" as part of the "Senato e Cultura", Concert at the National Museum of Musical Instruments, guest choir at the final of the "Ottavio Ziino" International Opera Competition at the Torlonia Theater) and he participated in national competitions ("Guido d'Arezzo" National Polyphonic Competition, 7/11/2021 first classified; Cantagiovani Salerno, 3-4 / 5/2019 first classified; Choral national city of Fermo, 14/10/2018 special mention to the best youth group emerging).
Alberto de Sanctis has to his credit an intense activity as a teacher in training courses for choir conductors and choristers, among the most important being the ministerial course "CANTARE INSIEME" held in numerous cities in Italy, the conducting and choral singing course in the training seminars of the "Estate Musicale Frentana" (Ass. Amici della Musica Fedele Fenaroli) and the "Campus Ars Musicalis". He was previously director of the choirs 'Cappella Ars Musicalis', 'Valpescara' and 'Artificio Vacal Ensemble'.
The Rabbi
Rabbi Avraham Alberto Funaro wurde 1953 in Rom geboren und erwarb 1979 die Semikhà am italienischen Rabbinerseminar. Er ist Chazan, Sofer und Tokeà in der Jüdischen Gemeinde zu Rom. Rabbi Funaro ist Professor an den jüdischen Schulen und am italienischen Rabbinerseminar.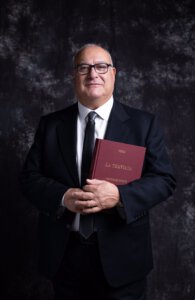 The Solist
Claudio Di Segni studied with important teachers including Franco Corelli. He sang the opera repertoire in the main roles like Lucia di Lammermoor, Rigoletto, La Boheme, La Traviata, Madama Butterfly, Tosca etc, alongside great artists such as Luciano Pavarotti, Samuel Ramey, Alfredo Kraus etc and interpreted several contemporary works in the first absolute. The Tenor has been present in important Italian and international opera houses.
Claudio Di Segni is currently President of the Singing School of the Santa Cecilia Conservatory of Rome and Director of the Choir of the Tempio Maggiore in Rome. Several times he teached in important conservatories and universities of China.
The Pianist
Antonio Cama graduated in Piano with full marks and honors from the "Francesco Cilea" Conservatory of Reggio Calabria. He continued his studies in Naples under the guidance of M° Francesco Scarico.
After moving to Rome, he devoted himself mainly to concert activity as an accompanist for opera singers and polyphonic choirs. In this capacity he has performed concerts, recitals, masterclasses, competitions and advanced courses not only in many important Italian cities (Rome, Turin, Bologna, Florence, Siena, Bergamo, Matera, Ferrara, Perugia) but also in Saudi Arabia, United States, Great Britain, Austria, Lebanon, Syria, Germany, Morocco, Israel, Turkey, Vietnam, Thailand, Ukraine and Russia. He studied Continuous Bass Practice in Rome with M° Salvatore Carchiolo, Chorus Direction and Opera Singing with M° Fabrizio Adriano Neri and M° Giuliana Valente. He also attended the courses of Piano and Jazz Harmony at the "St. Louis College of Music "in Rome.